To register for the 2017 QCDD FAMILY SUPPORT CONFERENCE, click one of the following:
FREE for Self-Advocates, Families, & Caregivers: CLICK HERE
$35* for Professionals: CLICK HERE
Workshops will Include:
Front Door in English and Spanish
Benefits and Entitlements
Self-Direction from Start to Finish (Panel including people receiving services, broker, service providers and OPWDD)
Crisis Behavior Management Panel
(including NY START and other service providers)
Understanding the IEP Process
Transition to Adult Services
Legislative Advocacy 101
(including all updates on Federal & State Medicaid, Managed Care and Social Security legislation & benefit changes)
THE RESOURCE FAIR is part of the QCDD Family Services Conference in which over 70 agencies share info about their services.

$150* for Non-Profit QCDD members (a member is an agency whose annual dues are paid in full) /$200* for Non-Profit Agencies who are not QCDD members/$250* for For-Profit Agencies who would like to register a table for the the resource fair.
To register for THE RESOURCE FAIR(which is part of the conference and runs from 10am – 3pm): CLICK HERE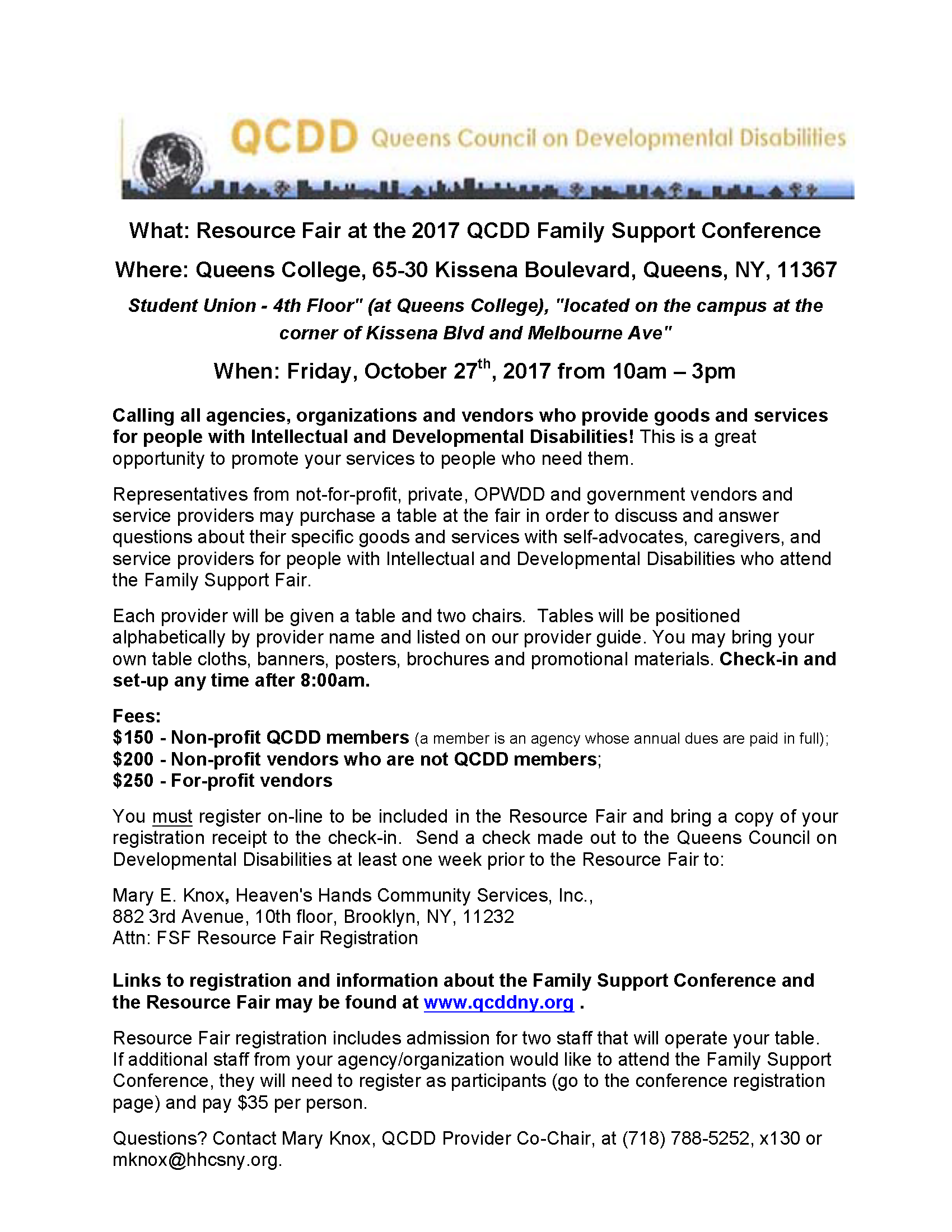 *CHECK ONLY
PAYABLE TO: Queens Council on Developmental Disabilities (QCDD)
MAIL TO: Mary Knox, Heaven's Hands Community Services, Attn: FSF Resource Fair Registration, 882 3rd Ave., 10th Floor, Brooklyn, NY 11232
For more details, please click here
Welcome
The Queens Council on Developmental Disabilities offers its website as a source of information on quality services and issues impacting the lives of individuals with Intellectual and/or Developmental Disabilities and their families. Our efforts are guided by a commitment to ensuring that your loved ones receive the support they need in order to live rewarding and fulfilling lives. Our membership includes people with developmental disabilities, their families and service providers who meet regularly.
Who We Are
The Queens Council on Developmental Disabilities is a group of professionals, parents, and advocates concerned about people with developmental disabilities living in Queens. The Council is authorized by Mental Hygiene Law to advise local and state government on service development and local priorities in regards to city and state resource allocations.
The mission of the Queens Council is to advise, inform, pioneer, identify needs and problems and to work toward their resolution.
The meetings of the Council and its committees provide a forum for discussion about situations which impact on the individuals with developmental disabilities and on the service systems.
The Council's work often leads to positive changes in the service delivery system providing services to individuals with developmental disabilities.
The Council consists of several committees focused on addressing unmet needs of Queens residents with developmental disabilities.
The Council is charged with assisting and advocating for individuals with developmental disabilities and their families.